Oktoberfest
(16 September - 3 October)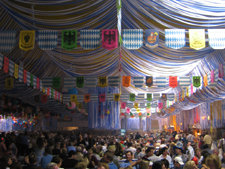 Oktoberfest is a 16–18 day festival held each year in Munich, Bavaria, Germany, running from late September to the first weekend in October. It is one of the most famous events in Germany and the world's largest fair, with more than 5 million people attending every year. The Oktoberfest is an important part of Bavarian culture. Other cities across the world also hold Oktoberfest celebrations, modeled after the Munich event. The Munich Oktoberfest, traditionally, takes place during the...
Printable Birthday cards
- we will send it for You
Printable Name Day cards
- we will send it for You
Hydepark
- everyday is an opportunity to send a card
Video cards
Short video clips with moving images and sound. They arouse emotions because they remind us of various events in our lives. Video cards are for those who want to communicate their wishes in a modern way. Choose the film card that fits your life, add your own greetings, select the stationery and send the film greeting. SCOUT.eu will deliver it to the indicated address...
Cards with your picture
Cards where the hero is the person whose picture you insert in the animation. This card is for those who like to create and give joy to their friends - positively surprising them. Insert any picture (yours, the recipients, etc.) to the selected animation, add a greeting and send surprising wishes or greetings to surprise your friends...
Invitations
Take advantage of the database for every occasion! Insert the relevant data and invite your friends to any ceremony or event. Do this always the way you want by choosing the form of the invitation, color and content. SCOUT.eu will deliver the invitation on your behalf to everyone whom you indicate. It is always nice to reply to such invitations...
Send greetings to your friends and let them remember about you
Send a card
See how exceptional is time spent with us. Everything that we do is for you, your acquaintances, family and friends - our shared international e-card platform for every occasion. We hope that you will see us as your friend and that you'll be personally convinced that we are passionate about our work and we are especially pleased that our eCards produce so many positive emotions and joy for those who receive them. The thousands of static, animated and video cards for every occasion are there for you. Now you can see what a pleasure it is to send cards to your loved ones and what a great pleasure it is for them to receive. Create your own account for free and take advantage of the greetings base, personal date and event reminder and your own card page. This is what SCOUT.eu is all about - probably the best portal with cards on the net...
SCOUT.eu remembers for you and always reminds you about all important dates (birthdays, name days, anniversaries and holidays) that you set up in your personal account. A few days earlier you will receive at no cost an email reminder about the upcoming occasion so that you will have enough time to chose a card, prepare a greeting and send it, bringing joy to the recipient. For you this is the end of having to remember, take notes and or writing on a calendar. Create in one place all your important dates and SCOUT.eu will remember about the rest!
Probably the largest database of holiday, special occasion, romantic and other texts collected together in one place with an extremely simple way to add them to the card sent. Therefore our users very easily and beautifully express their thoughts, feelings and wishes. You can choose according to the category or length (short or long greeting), here you can find texts that are serious, funny, romantic, touching, in the form of poems, quotes and wishes.
You receive from SCOUT.eu a place from where you can create your own website with electronic cards. You receive your own, individual internet address or you can collect and keep cards in a private album, only accessible to you. You can add to the public directory each image created and added. If it is interesting, all the users of the portal will see it! So if you have or create interesting images, graphics or animations, you can now collect them all in one place. You can develop and promote yourself on the website you created...